Post Demonetisation Small finance banks see asset quality deteriorate - A CRIF Report
According to data compiled by CRIF High Mark Credit Information Services, a credit bureau, the portfolio at risk (PAR) for 30 days has increased 10.56% at the end of March compared to 2.99% three months earlier.
PAR is the proportion of loans overdue (for a specific number of days) to the overall loans outstanding.
Similarly, PAR above 90 days for microlenders stood at 4.45% at the end of March compared to 0.24% at December-end. Total microloans outstanding at the end of March stood at Rs1.05 trillion, up 31% from a year ago, and a slowdown from the 42% pace recorded the previous year, according to CRIF data.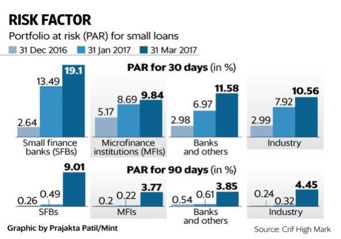 Year ago figures for the industry stood at 0.30% for PAR above 30 days and 0.16% for PAR above 90 days.
This loan portfolio is roughly divided into three equal parts held by small finance banks, microfinance companies and commercial banks and others.
For SFBs, PAR above 30 days and PAR above 90 days stood at 19.10% and 9.01% at the end of March. This was an increase from their December-end numbers as the chart alongside shows.
That microfinance asset quality would drop post demonetization is not surprising, but the extent of the fall has surprised analysts.
"Small finance banks have diversified portfolios and the ones having exposure in Karnataka, Maharashtra and Uttar Pradesh were severely impacted," said Rohit Inamdar, senior vice=president at ratings agency Icra Ltd.
"The small finance bank portfolio is getting skewed because of some of the entities. Excluding them will make this portfolio in line with microfinance companies and others," added Inamdar.
Collection rates dropped to levels of 40-50% during December in places such as Maharashtra, Karnataka and Uttar Pradesh where some political leaders told people their loans have been waived off.
Karnataka-based Janalakshmi Financial Services Ltd has a PAR above 30 days of 31% at the end of March while its PAR above 90 days stood at 14%, according to two people aware of the matter. Both these numbers are roughly three times the industry level.
Janalakshmi holds 40% of the loan portfolio among small finance bank portfolio at the end of March, according to Mint research. The top three small finance banks—Equitas Small Finance Bank, Ujjivan Small Finance Bank, along with Janalakshmi, hold 78% of small finance bank's loan portfolio.
Ujjivan's PAR above 30 days at March-end stood at 7.51% while for Equitas Small Finance Bank, the figures were not immediately available. Ujjivan and Equitas's PAR above 90 days stood at 3.69% and 2.70% respectively at March-end, according to their investor presentation.
"Over the past three years, a few institutions chose to aggressively capitalize on the favourable policy environment for MFIs (microfinance institutions), which had an impact on portfolio quality. Demonetisation was merely the trigger for the problems to surface," said Alok Prasad, former chief executive officer of Microfinance Institutions Network (MFIN).
"Janalakshmi's current situation has to be seen in this broader framework of irrational exuberance and over-leveraging of clients. It is also noteworthy that in the pursuit of high growth, the classic high touch microfinance model got diluted," added Prasad. High-touch model refers to constant engagement with the customer.
Still, others see the current elevated risk levels to come down once the impact of demonetization gets mitigated.
"In many regions things are improving. Post first quarter lending of this financial year, sector will slowly come back to normal pace," said P. Satish, executive director of Sa-dhan, a self-regulatory organization for microfinance institutions.
Full Article: Live Mint | Microfinance Gateway​