Synesgy- Global Digital ESG Reporting Framework & Assessment 
Today, companies are increasingly being evaluated by the long-term impact of their actions on all stakeholders, including shareholders, employees, customers, and society. It has become imperative for companies to drive sustainability across environmental, social, and governance (ESG) norms and build a stakeholder value model that quantifies results beyond immediate costs and returns. Sustainability requires a proactive approach and the adoption of real actions, especially in the evaluation of production processes and supply chains, which contribute up to 90% of a company's overall impact.
Synesgy is one of the most trusted providers of business sustainability ratings, certified by CRIF Ratings (CRA), a Global Credit Rating Agency, and backed by powerful technology and global expertise. The revolutionary digital ESG reporting framework called Synesgy was introduced to enhance the transition to sustainability through data and information collected for this dynamic business ecosystem.
How  Does Synesgy Help You Drive Sustainability?
For Buyers
Evaluate supply chain sustainability using ESG Performance Scorecards.
Implement monitoring tools within the procurement process for transparency.
Avoid operational and reputational hazards.
Implement cost controls while growing your business.
Find the best ESG-Rated Suppliers.
For Suppliers
Perform self-assessments to check your sustainability level.
Implement a unique process to qualify for the ESG frameworks for all companies demanding it.
Obtain certification and publish them on digital assets.
Use benchmarks to position the company within the sector.
Grow your business by promoting your ESG scores.
Who Can Benefit From ESG Assessment?
The Synesgy Score And The Action Plan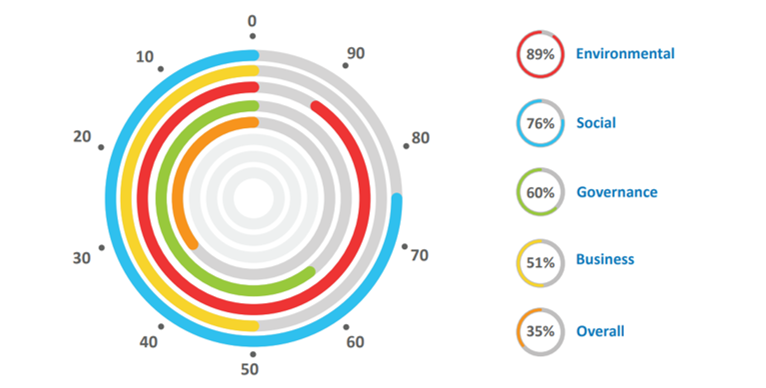 The Synesgy ESG score model makes it simple to visualise the scores obtained in the five macro segments of the questionnaire (Business, Environment, Social, Governance, and Sector). The sectional scores are combined into an "overall" score to get a comprehensive rating.
The Synesgy score, obtained after completing the questionnaire, is included in the certificate, which can be downloaded directly from the digital platform and shared easily with the supply chain and partners.
The Synesgy certificate is valid for 12 months. After this period, or if necessary, a new assessment should be made.
The Synesgy ESG Framework

Questionnaire
ESG Framework
Core Questions
Industry Specific Questions
CRIF Rating Agency

Quality 
Local Regulation
Local Business Information
Legal and privacy validation
Data Quality Analyst's Team

Support & Consultancy
Customer Support for suppliers
Customer support for the head of the supply chain
FAQs
Helpline

Assessment
Score
Certificate
Dashboard

Synesgy is an international alliance of leading companies improving the transition to sustainability with data and information. The Synesgy network consists of partners specialising in economic and business information on global companies, helping in ESG evaluations both from a global and local context.


Want to know more about us
We are always open to discussing new projects, Creative ideas and opportunities to be a part of your visions.