CRIF recognized for its open banking value-added services by independent research firm
CRIF named as one of the top open banking players in latest analysis from leading global analyst firm
The fintech's 2020 acquisition of Strands, which boosted CRIF's aggregation capability, and its overarching value-add strategy have contributed to the inclusion in the report by independent research firm
Inclusion attributed to the fintech's overarching focus of adding value for customers, with its support for local APIs; in particular, Strands 'solid' PFM and BFM tools and 'comprehensive' deployment options are referenced.
April 2023, London: Europe's leading provider of credit information, open-banking and digital solutions, CRIF, has been named as one of thirteen of the most significant open banking providers.
CRIF was among the selected companies that Forrester invited to participate in its March 21, 2023 Forrester Wave evaluation, The Forrester Wave™: Open Banking Intermediaries, Q1 2023. In this evaluation CRIF was cited as a 'Contender' in Open Banking, alongside other influential open banking players.
The Forrester Wave™: Open Banking Intermediaries, Q1 2023 report analyses the top open banking providers across the ecosystem, to better help banking and financial services professionals select the right providers for their needs.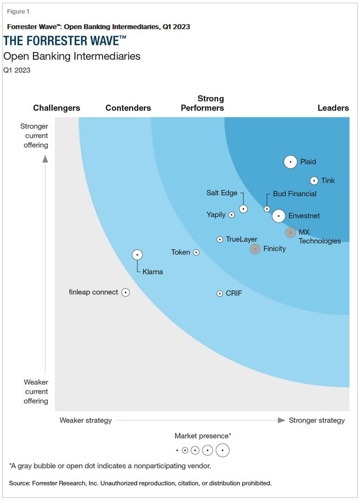 CRIF believes its inclusion is attributed to the fintech's overarching strategy of providing added-value solutions to banks and lenders to better serve their consumer and business customers. The fintech's strength in offering solutions to customers with specialised open banking requirements is highlighted, with a focus on account aggregation, transaction categorisation, credit risk analysis, early warning models, affordability assessment, and business and personal finance management (BFM and PFM) capabilities.
CRIF's vision is to provide comprehensive product deployment options, with customers able to deploy its services within their own hosted clouds. Additionally, services are also provided via CRIF's strong support for APIs, 'impressive' dedicated implementation teams, partnership, and collaborative Kaizen approach. The Forrester report states that CRIF will particularly suit firms with multilingual, multi-country needs.
A main driver behind the fintech's overarching value-add strategy is CRIF's 2020 acquisition of digital money management solutions provider Strands. In fact, with the acquisition of Strands, CRIF has integrated its end-to-end open banking solutions with AI-powered BFM and PFM to further help banks and financial institutions to innovate and evolve their services, boost business and ensure a constant focus on customer needs.
Leonardo Piva, Corporate Business Development Director of CRIF Digital said: "We believe that our presence in the Forrester Wave is the recognition of our effort, investments and results in Digital Services for Financial Institutions.
"We are facing, as a business community, hard challenges in these years: now more than ever we want to support our clients in their search for excellence, leveraging on CRIF's ability to innovate and our deep knowledge of Financial Institutions' processes."