Demystifying Credit Score and its Importance
Champions Trophy had gripped the country recently, more so since the game's iconic rivalry of India-Pakistan was up for grabs. Rajesh, an IT professional and Aditya, a Chartered Accountant, were also spending the day together watching the Champions Trophy. Even while they were put off by a dismal performance by India in that match, Rajesh started discussing the recent query he faced from ABC Bank after he applied for a housing loan.
Rajesh was visibly upset for India's loss and also for the delay he was facing for his housing loan sanction.
"Aditya, amidst India's low score today, please tell me what is this credit score? My bank is unable to fetch my credit score. As such, my housing loan application is getting delayed as the bank wishes to gather more documents in support of my application."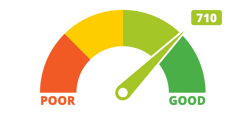 "Credit Score is a score calculated on the basis of your repayment habits like paying installments on time, rolling over your credit card bills etc. For a lender, your credit score is your first impression, as your bank forms your opinion as a borrower on the basis of this score only. If one doesn't have a credit card or any existing loan, the credit report will not have any data and as such, this person would not have any credit score." Aditya, being a professional in the field and also his best friend was there to his rescue as always.
"I think I need to clear my basics. I am totally clueless about the subject. What's the range for this score and what does it denote?" Rajesh seemed interested to know more.
"The credit score is calculated once you have a credit history of more than 6 months. CRIF score ranges from 300 to 900, higher credit score reflecting better credit habits. So, an individual with credit score 800 will get a loan more easily than one with a credit score of 650." Aditya was happy to educate Rajesh about an unknown subject.
"So, what is it which I can say to be a good score? Or it's all relative to credit scores of other individuals?" Rajesh seemed confused now.
"A credit score above 700 is what banks consider as good score. However, a lower score does not make you ineligible for a loan. Banks are just more cautious sanctioning a loan then and hence, may ask for additional documents to process your application." Aditya cleared his confusion happily.
"I am so relieved now. No wonder, I trust you for all my financial troubles. Now I know one more score apart from the cricket scores, the credit score. But I do need to know how can I check my score?" Rajesh was much more excited now.
"It's time to enjoy the tea now. Keep all your questions for the next time we meet. I guess we have a match next weekend too."
Rajesh and Aditya were all in smiles now.